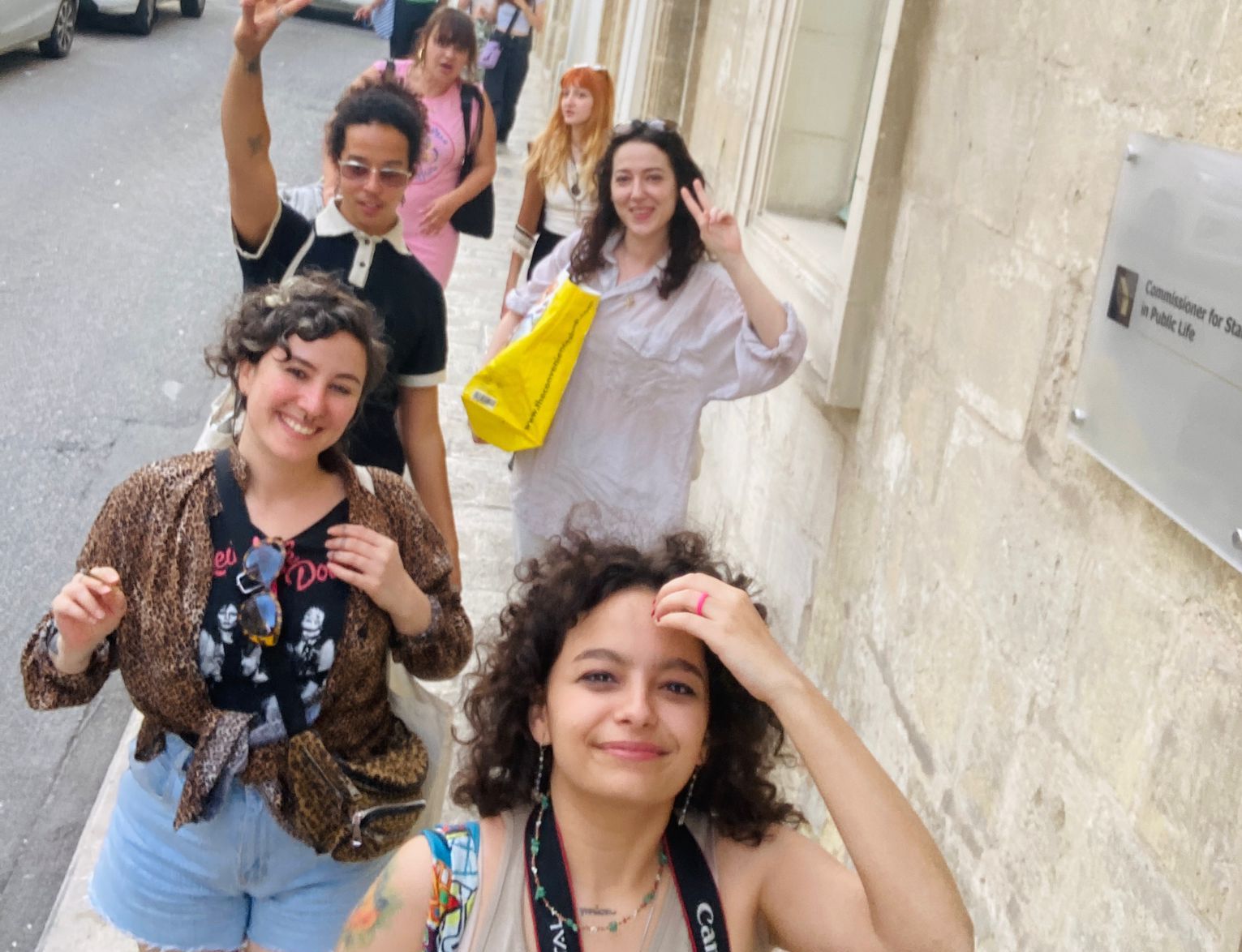 Educational Programme

REPRESENTING PRIDE
Representing Pride is a tuition-free educational programme for emerging and early-career visual storytellers with a focus on LGBTQIA+ stories and issues.

The programme consists of an in-person educational residency, in tandem with online modules.
The first edition of the programme brought together photographers from or based in the Mediterranean basin, organised by ĦOLMA and was made possible by
EuroPride 2023
.
The 2023 edition of the educational programme was mentored by multi-award-winning documentary photograph, artist and educator
Tanya Habjouqa
.
Discover more about the unique bodies of work created through
Representing Pride 2023
.
Overview


Representing Pride is a high-caliber photography focussed residency for LGBTQIA+ artists, combining in-person and online educational modules. Dedicated to professional capacity building and artistic development for emerging and early-career photographers.

The educational programme is mentored by established and award-winning documentary photographers and artists who have themselves worked with LGBTQIA+ issue and representation in their own professional practice.


Region


Our regional approach encourages a creative spirit that transcends political borders. Striving to spark international collaboration, and cross-pollination of visual traditions and relevant cultural dialogues. This cross-cultural approach expands not only the worldview of the artists involved, but their professional networks and the real-world opportunities such a community can offer.

We strive to work with an international mentoring team, which carries a personal and professional understanding of the specified region.


Goals


The participating artists will focus on creating a new body of work, motivated to delve deeper into their artistic practice with the guidance of the mentoring team, as well as develop a stable foundation for the continuation of long-term research and career.

A professional network of photographers and artists from the surrounding region, who will continue to collaborate, provide trusted feedback and share opportunities.

High-calibre capacity building for regional photographers to further develop their toolkit, network and artistic ability.



Representing Pride Jury 2023: Mohamad Abdouni, Creative Director Cold Cuts Magazine, Romeo Roxmann Gatt, Artist & Co-founder of Rosa Kwir, Tanya Habjouqa, Artist, Photographer and Mentor
The Representing Pride jury acts as an independent body tasked with the selection of participating photographers and artists. The criteria for selection focuses on the applicants visual approach and language, technical capacities, their potential for story-building, narrative structure and the relevant conceptualisation to achieve these goals. Representation of a diverse range of stories and storytellers, and the alignment and relevance of the maker to their subject.

Applicants are reviewed by a minimum of three individual jury members who are internationally recognised regional experts and artists from, or focussing on, the LGBTQIA+ community, through a multi-round contest structure.

The jury consists of established artists and photographers working within the region, and whose professional practice corresponds to the theme of Representing Pride.

© Mariah Ivie Cutajar; 'The Reclamation of Calypso' 2023 | One of the works created during the Representing Pride 2023 Educational Programme

Selected applicants receive a
tuition-free, complete educational programme
over the course of six months, including online mentorship sessions and an in-person workshop held in a part of the region.
The
in-person module
offers an opportunity for the photographers to
mobilise their practice
, and provides reimbursement for travel and accommodation of the participants during the in-person module.
Participants are led by the
dedicated mentorship team
, consisting of internationally recognised, and award-winning photographers and artists, and supported by the HOLMA team, to create
new bodies of photographic work
. Along with this, additional resources from regional experts and artists whose professional practice corresponds to the theme of Representing Pride are provided.
A partial goal of this educational programme, outside of the
long-term benefits of cross-cultural professional pollination
, is the development of a new body of work, which will be presented in the form of
an exhibition at a prestigious local cultural venue
.
Discover more about the incredible photographers and artists involved in
Representing Pride 2023
made possible by
EuroPride 2023.

Team:
Samira Damato –
the director and founder of ĦOLMA. Curator of the Pride Photo Awards, former Head of Education and Exhibitions of NOOR images and curator for the World Press Photo Foundation.
Nadine Rotem-Stibbe
– Design | Digital
Loïs DM
- Community Manager
Daisy Corbin O'Grady
– Project Manager |
Programmes
KVK number: 80717144
VAT number: NL003482148B83